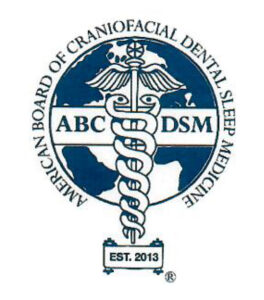 Local dentist, Terry J. Billings, DDS, has successfully completed all requirements and is now board certified by the American Board of Craniofacial Dental Sleep Medicine (ABCDSM). Recognizing Pr. Pick's achievement, ABCDSM President, Gary Demerjian, explained:
"Earning Diplomate, American Board of Dental Craniofacial Dental Sleep Medicine status is an important professional achievement that signifies to patients, dental, medical and other health professionals that the dentist has met the high standards of care set forth by the ABC DSM."
Craniofacial Dental Sleep Medicine is the broad term used by dental and medical professionals to encompass airway issues related to Sleep Disordered Breathing. Diplomates evaluate and manage airway-related sleep disorders and are trained and experienced in overall oral health care, the Temporomandibular joint (TMJ), dental occlusion and associated oral structures. First used circa 1859, the term is derived from the root cranio (meaning "head or "skull") andfacial (which refers to the face generally).
Dr. Billings, who practices at Billings Family Dentistry, 3101 7th Street in Metairie, exceeded all eligibility criteria designated by the ABCDSM for education, clinical experience and patient care. To earn the designation "Diplomate, American Board of Craniofacial Dental Sleep Medicine," Dr. Billings also successfully completed a rigorous psychometrically-derived written certifying examination and patient case study presentations. Sleep disorders are estimated to affect more than 35 million Americans. Dentists with advanced training and experience in Craniofacial Dental Sleep Medicine can effectively assess, refer and manage airway issues related to Sleep Disordered Breathing.
Established in 1985 and headquartered in Reston, VA, the ABCDSM is an independent, nonprofit whose purpose is to conduct certification examinations in the field of Craniofacial Dental Sleep Medicine. The ABCDSM adheres to the American Dental Association Principles of Ethics and Code of Professional Conduct, and advises all Diplomates to follow this code and their state or legal regulatory agency requirements, when advertising their status. For more information about the ABCDSM, visit
http://www.abcdsm-us.org
.